WHIRLPOOL STEAM SHOWER CUBICLE ENCLOSURE BATH CABIN 1700mm x 850mm Radio 2580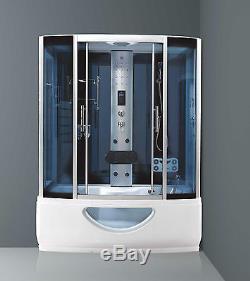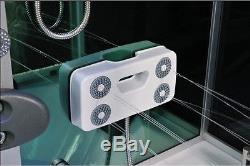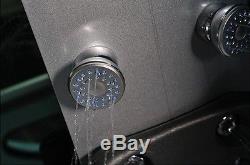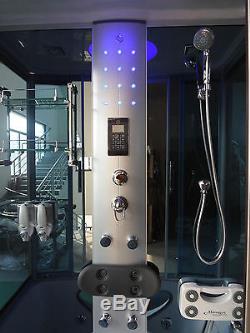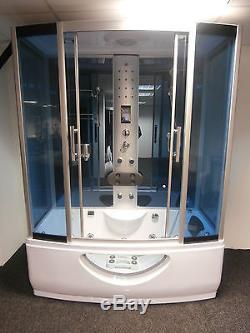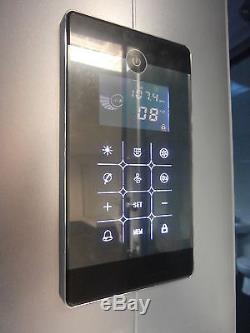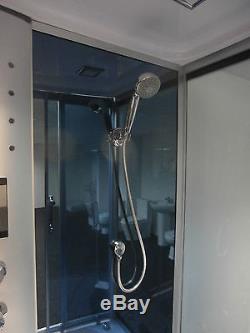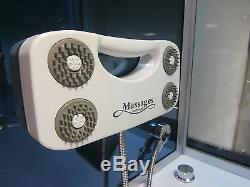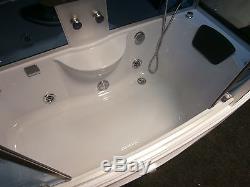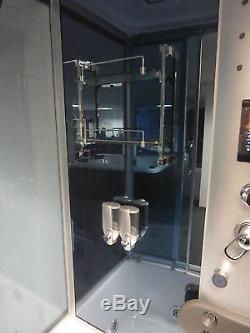 Superior Spas Unit 6, Devonshire Industrial Hamlet, Station Road, Brimington, Chesterfield, Derbyshire S43 1JU. What better way to relieve the stress of modern living that to retreat to the luxurious comfort of your own personal steam shower. The 2580 comes equipped with the latest in luxury features which you will find mentioned in the specification section of the listing. The 2580 does not require tiling or the need for cosmetic plumbing, these self contained and free standing units provide a convenient and cost effective bathing solutions. Over all unit size 1700mm x 850mm x 2200mm. Smoked tinted rear glass reflective panels Smoked glass side glasses Chrome mixing valve mechanism Over head rain shower built into the enclosures roof Hand shower with optimal height setting Centre seat Storage shelf with chrome rail Hydro-massage jets Built in FM Stereo Mobile foot massage Stereo speaker built into the enclosures roof 5mm Tinted Tempered Glass Internal Mood Lighting Extractor Fan Steam Generator Computer Controlled LCD Screen Latest version with touch screen black glass. Acrylic base with steel frame and adjustable feet Easy Glide Doors With Magnetic Closer Hot and cold connections Can be connected to a combination boiler Low pressure water supply may require a pump.
Recommended 2.5 bar pressure CE Certified ISO9001: 2000 Approved. RoSH Models can vary subject to upgrades. The Steam Shower Unit includes one high quality speakers, allowing you to have a clear communication with the other party on the telephone, as well as producing a great sound effect for a fabulous experience with the Radio.
The Steam Shower Unit includes adjustable body massage jets that provide a moderate massage to your body while showering. The body jets function help you to improve your metabolism, blood circulation, and makes you feel restored.
Germs and bacteria appear easily in moist and humid environments. Simply press the Ozone button on the display panel, and the Ozone Sterilization System will automatically clean and kill bacteria and germs inside your Steam Shower Unit.
The steam shower unit has a built in hands free telephone. The built in microphone and speakers will allow you to communicate easily even when you are taking a shower!
The Computerized Control Display Panel controls all functions such as power, steam, water jets, lights, ventilation fan, emergency, telephone, and ozone in the Steam Shower Unit. Simply press the desired function on the screen and the control panel will show the status of it. NOW WITH UPGRADED TOUCHSCREEN CONTROL!
The steam function is easy to use. Simply press the Steam button on the display panel or remote control, and the steam generator will automatically produce steam after ten to fifteen minutes.
The temperature of the steam can easily be adjusted on the computerized display panel. Steam Sauna can provide relaxation, but is also known for improving metabolism, blood circulation, and detoxifying bodys waste through sweating! The King Size Rainfall Showerhead in the Steam Shower Unit resembles a tropical rainforest atmosphere. Along with the blue Overhead Light surrounding it, it enhances your mood and sets a marvellous experience to your everyday shower experience.
The Steam Shower Unit is integrated with an all purpose utility rack, enabling you to station your favourite health care products easily. Aromatherapy and Medicine Steam Box. The steam shower unit comes with an aromatherapy medical box to deliver extra comfort when taking a shower! To use, simply place your favourite herbal medicine or aromatherapy products inside, and turn on the steam function. You will experience a rich fragrance drifting out with the steam.
Attached to the inside wall is a removable foot and calf massage system. The foot and calf massage is combined with mechanical force and hydro pressure. With its built-in roller bars and water jets, it helps ease your sore legs and feet after everydays long walk or stand! The Fan Button allows you to switch on and off the ventilation system of the steam shower unit.
You are in control of the temperature and air density at a desired level during usage of the steam sauna or shower. All the glass doors consist of this fashionable and durable door knob that allows you to open and close the doors easily. The Steam Shower Unit includes a handheld adjustable shower head that comes with several spray styles. The Steam Shower Unit is integrated with a FM Radio. You can tune in to your favourite FM station using the display panel or remote control.
A CD Connection is also included, allowing you to connect your own CD player to the Steam Shower Unit. The drain filter helps blocking shower wastes in the most efficient manner when water drains at the side of the whirlpool, preventing wastes clogging your drain pipe. Are Credit/ Debit Card, bank transfer, cheque, or cash on collection. Please make us aware of any restrictions you feel may prevent your item from being delivered. A customer RA number must be issued before we can except any return.
Wide Range of Steam shower enclosures now in stock! Sign up for Shop newsletter. Unit 6 Devonshire Ind Hamlet Brimington Chesterfield Derbyshire S43 1JU 01246 541200.
The item "WHIRLPOOL STEAM SHOWER CUBICLE ENCLOSURE BATH CABIN 1700mm x 850mm Radio 2580" is in sale since Sunday, July 02, 2017. This item is in the category "Home, Furniture & DIY\Bath\Shower Plumbing\Complete Shower Units". The seller is "miami_spas_hottubs" and is located in United Kingdom.
This item can be shipped to United Kingdom.
Width (mm): 850
Length (mm): 1500
Height (mm): 2200
Brand: Superior Spas
Features: Massage Jets

---