LEWIS Extra Long Plain Deep Soaking, Japanese Style Bath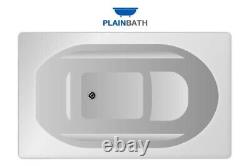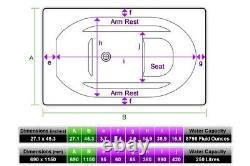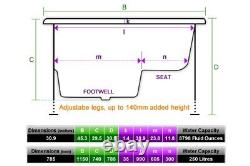 You have selected the deep soaking. The Lewis (extra long) is a Japanese style, deep soaking bath designed for those with limited space to bathe. It measures a compact 1150x690mm & is 740mm in depth with a water capacity of 250 litres. (Adjustable legs with a maximum length of 140mm are fitted to this bath). Made within the UK from a high quality GRP (glass reinforced plastic), the Lewis Extra Long deep soaking bath comes in white as standard 7amp; is available in various other colour finishes on request.
This bath comes without an overflow or waste. Please Note: All Deep Soaking baths from Whirlpool Express come fitted with legs. The legs that this bath is fitted with are adjustable. You may need to allow for the maximum extra height of 140mm for the legs when considering measurements for this bath.
This Deep Soaking bath is handmade, dimensions may vary slightly. We are proud to be British and will do everything in our power to ensure that we meet the high British standards expected from our customers.
To achieve this high standard, we source any products we do not manufacture themselves from within the UK and Italy. We do not import from China to reduce costs, as quality and longevity expectations are too low to justify the saving in cost. We are therefore proud to supply the highest quality Spa baths manufactured in the UK, using British people and technology, superior British and European components.
The driver will need help unloading the goods from the lorry/van. You will always get notification if this has become apparent to us. The driver will need help unloading the pallet. Sorry, this service is not available for Highlands/islands.
Once the product has been signed for as "received in Good Condition" we cannot entertain and subsequent claims for missing items or damaged. Please wait until the item is received and fully checked before arranging fitting ECT. Very occasionally, despite all the precautions we take, good do get damaged. It is necessary on these occasions to follow our procedures so that where necessary replacements can be arranged without fuss. It is not sufficient to sign "Unexamined". This is a summary of our terms and conditions.
---