Phoenix Marino 1950 x 1350mm Whirlpool Bath with 14 Jets and Colours RRP- £2,650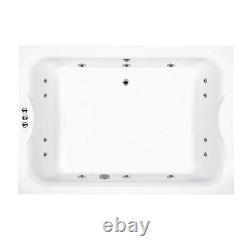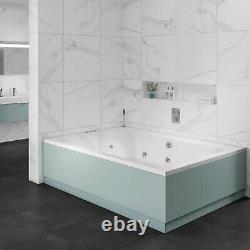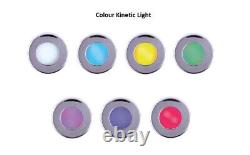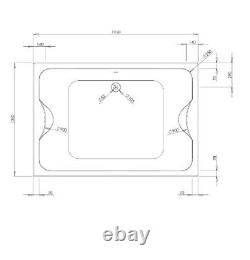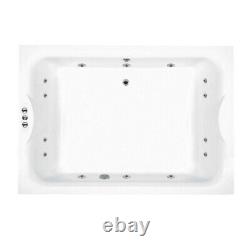 From the Phoenix range the Marino is an exclusive luxury bath for the person who is looking for something different and has a keen eye for the latest trends. It could be described as straight out of the pages of a trendy lifestyle magazine read by the upwardly mobile young set. A style not often seen in the brochures of bathroom products. The Phoenix Marino is an exclusive and individual item, which nevertheless is an efficient and comforting whirlpool bath, just the thing when you have had a hard day at work. The Phoenix Marino Luxury Bath.
System 1 - Whirlpool System. Whirlpool On/Off Button - Operates the On/Off function of the system. Press and hold until the pump starts. 2 x Air Flow Controls - These controls allow the air mixture to the whirlpool jets to be increased and decreased. Simply turn the control until the desired mix of air and water from the jets is achieved. The air/water mix between jets can vary. Dry Run Pump Protection - There are no user controls for the use of the dry run pump protection, it is an integral part of the pump. Its function is to protect the pump if it is operated accidentally. If air is directed from the Airpool system into the Whirlpool vortex, this may activate the dry run protection and shut down the Whirlpool system. Position body to reduce this risk accordingly. Colour Kinetic Light - On/Off Button - Operates the On/Off function of the light and the colour change options.
Once the light is on, press the button to skip to the next colour. Repeat this until you find your desired colour. The end of the colour sequence is red, press again and the auto colour cycle will start. An earth-leakage circuit breaker (ELCB) is a safety device used in electrical installations with high Earth impedance to prevent shock. It detects small stray voltages on the metal enclosures of electrical equipment, and interrupts the circuit if a dangerous voltage is detected.
Bath panel, Waste, Taps and brassware are not included. You must notify us within 24 hours of any damage or shortages, or your claim may not be valid. When will my items arrive? So if you order on Monday we send out the goods on Tuesday. How will my items be delivered?
Can I have my items delivered to any address?
---