1800mm-1000mm Square Double Ended Bath-whirlpool Jet System-Light Option-KOLLER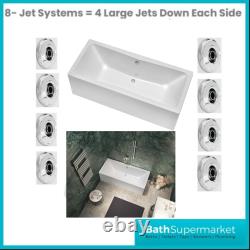 Toreno Double Ended Bath Square 1800mm x 1000mm. WE HAVE THE LARGEST CHOICE OF BATH STYLES AND WHIRLPOOL OPTIONS WHICH CAN BE FOUND IN OUR STORE -->.
WE STOCK 100% WATERPROOF BATH PANELS. Part of the Sanica range, this rectangular, Double ended bath is the ideal finishing touch to any bathroom. Whether a modern bathroom or a cosy and inviting family bathroom. Built from a 5mm thick acrylic, this bath will not only stand the test of time, even with regular use, but will also match in with a range of other bathroom items with ease.
Always made to the highest quality, Sanica offer a 25 year guarantee on this particular bath, which means that you can always be sure that it is the best quality possible. No tap holes are drilled and an encapsulated base board, both of which mean that it is easy to install, and can be ready to go in no time at all.
All our whirlpool baths come complete with a heavy-duty leg pack and a free bath pop up waste. Does not Include Bath panels but send us a message if required and we can add them. 6- Jet System = 3 Large Jets Down Each Side. 8- Jet Systems = 4 Large Jets Down Each Side. 11- Jet Systems= 3 large jets down Each Side And 5 Micro Jets On Back. Option To Include Led Colour Changing Light. Also includes a colour changing light if picked at checkout.
Smoothly changes through an array of different coloured lights, creating the ultimate relaxing whirlpool experience. The Things We Love About Our Systems. Six jet whirlpool system (or 8 jets)creating a relaxing spa-like experience in your bathroom.
Three midi jets down both sides give you an invigorating and massaging experience. Helps relieve muscle pain, tension and stimulates blood circulation. With'child safety suction' feature, tested to BS EN 12764:2004+A1:2008.
Pneumatic switch enables you to control the jets or turn them off altogether. Hygienic - shaped pipework promotes maximum drainage.
Quality components with 2-year guarantee for added peace of mind. Thank you for purchasing a quality whirlpool system. In order to get the full benefit from this product and have many years of trouble-free service, please follow the simple instructions below. If you suffer from a heart condition or are pregnant consult your doctor before taking a whirlpool bath. DO NOT allow hair to become entangled with the suction fitting (the largest fitting in the bath).
If necessary, bathe using a shower cap. DO NOT take a whirlpool after a large meal or after drinking alcohol. DO NOT over do it! Start by having the whirlpool on for a short period and build up gradually each bath time. DO NOT bathe in hot water above 40 Degrees Centigrade (104 F).
DO NOT use large quantities of bubble bath, it will cause excessive foaming. Whirlpool Bathing Safety Care and Maintenance. DO NOT use bath oils, these will coat the pipes and cause a build up of grease. DO NOT run the whirlpool system without sufficient water in the bath, this will cause damage to the pump.
DO NOT clean the whirlpool fittings with abrasive or multi-surface bathroom cleaners. Use only mild soapy water and a soft cloth or a suitable micro-fibre cloth such as an e-cloth. MAINTAIN your whirlpool system using suitable whirlpool cleaning products. MUST be fitted to the electrical supply: it is an essential safety feature. Please Inspect your whirlpool bath on arrival. Each bath has been inspected and checked prior to fitting the whirlpool system. Any damages must be reported within 48 hours of receiving your goods, no claims will be entertained after this period. Incorrect details may incur additional charges. All our warranties are return to base and that it is your responsibility and liability for any charges to return the goods to us. This is clearly stated on all our product listings. Our usual warehouse hours for dispatch are between Monday to Friday 9:00 to 5:00.
---