Conversion assembly kit BATHTUB to WHIRLPOOL JETTED TUB upgrade kit with 1HP PUMP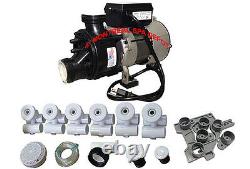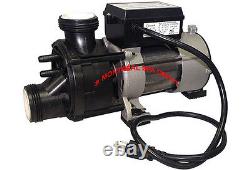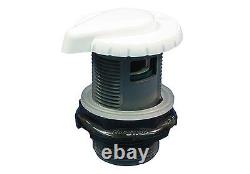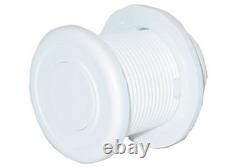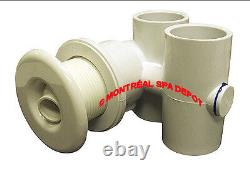 Transform any bath tub into a new. Jetted whirlpool tub, with this complete builder's kit, (acrylic and fiber glass tub). Pump, self draining, 1.5 in/outake.
Motor single speed 115V/60Hz/9A with. 6-ft cord & NEMA plug. Air Button #15 Classic touch, color white, 1-3/8 hole size. 2 x Pump unions 1.5" + Tee 1". 1 x Slimline 1" Venturi control valve on/off TruSeal Teardrop handle (for air intake) color white, 1"slip socket, 1-11/16 hole size.
1 x Waterway Hi-Flo Suction intake 1.5 VGB2008. Rated up to 120GPM, color white. 6 x slimline 1 Complete Eye ball adjustable threads Jet assembly. 1"air x 1"water, color white. It's not just an expression with us. That's the way Waterway products are made... Waterway SVC-2 V Hi Flo SUCTIONS assembly with Nut & Gasket.
1.5" slip socket for 1.5" pipe. 3"3/4" inches diameter cover.
Need 2"5/16" hole required. Total Open Area: 4.01 sq.
Virginia Graeme Baker Pool and Spa Safety Act VGB2008. UL ASME/ANSI A112.19.8. This is contractor kit, no instructions provided. Please note that bodyjets do not have gaskets, silicon will seal the bodyjets.
Item location: Las Vegas, Nevada, USA. Xpresspost 1-4 days, all trackables. Expedited parcel USA 4-8 days, with tracking#. Xpresspost USA 2-4 days with tracking#. CanadaPost + your local Postal services. International surface/boat parcel - 4 to 7 WEEKS, with tracking#. Xpresspost International - EMS - 4-10 days, with tracking.
---