Home Deluxe Whirlpool Corner Bath Bathtub Tub Pool Thermostat Spa Heating Heat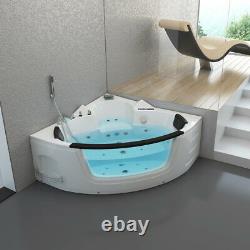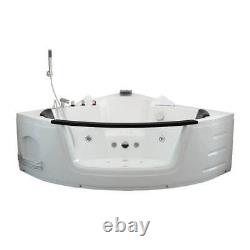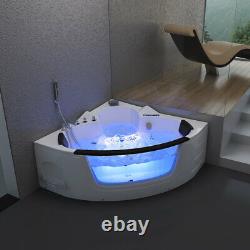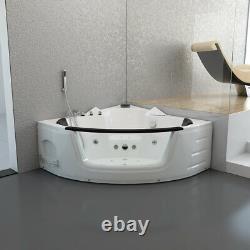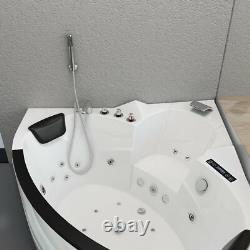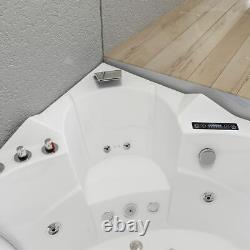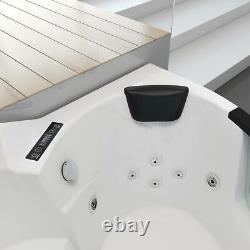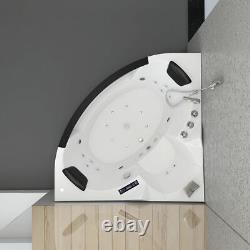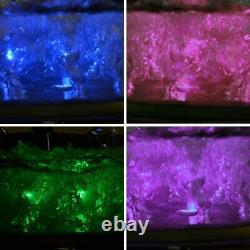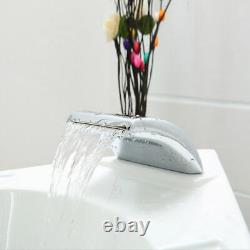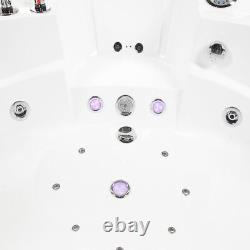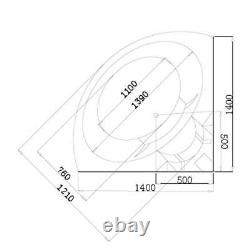 Home Deluxe Whirlpool Corner Bath Bathtub Tub Pool Thermostat Spa Heating Heat. The description of this item has been automatically translated.
Whirlpool LAGUNA - L Compact. WHIRLPOOL LAGUNA L - DATA. Please measure whether the Laguna L compact fits in the space provided - A tiled surface would be ideal, but it is not absolutely necessary, but a recommendation - You need a water drain and hot/cold water connection - Connection: You need 1 normal 220-240 V socket. Fuse: C16 - Whirlpool pump: 750 watts - Pump air jets: 375 watts - Power heater: 1500 watts - Maximum radio volume: 55 dB - also works with instantaneous water heater - Dimensions (WxDxH): approx. 140x140x65cm - Entry height: approx.
53 cm - tub depth: approx. 45 cm - Filling level: approx. 30 cm - Diagonal inner dimension: 139 cm - Floor length: 110 cm - Radius (from the corner to the front curve): 150 cm - Maximum filling volume up to the overflow protection: approx. 200 L Please note that this value was determined without people sitting in the pool. Because of the water displacement, you need less water for a whirlpool session, depending on your size and weight - Material thickness: 3 mm - Net weight: 84 kg.
4x whirlpool jets adjustable in intensity - 10x body jets for a comfortable back massage - 7x air jets. ELECTRICAL AND ELECTRONIC DEVICES - INFORMATION FOR PRIVATE HOUSEHOLDS. The most important are compiled here.
Separate collection of old devices Electrical and electronic equipment that has become waste is referred to as waste equipment. Owners of old devices must collect them separately from unsorted municipal waste. In particular, old devices do not belong in household waste, but in special collection and return systems. Batteries and accumulators As a rule, owners of old devices must separate old batteries and accumulators that are not enclosed by the old device from it before handing them over to a collection point.
This does not apply if the old devices are handed over to public waste disposal authorities and are separated there from other old devices in order to prepare them for reuse. Possibilities of returning old devices Owners of old devices from private households can hand them in at the collection points of the public waste disposal authorities or at the collection points set up by manufacturers or distributors within the meaning of the ElektroG. Privacy Notice Old devices often contain sensitive personal data. This applies in particular to information and telecommunications technology devices such as computers and smartphones.
In your own interest, please note that each end user is responsible for deleting the data on the old devices to be disposed of. Meaning of the crossed-out wheeled bin symbol The symbol of a crossed-out garbage can, which is regularly shown on electrical and electronic devices, indicates that the device in question must be collected separately from unsorted municipal waste at the end of its service life. Relaxation at the highest level LAGUNA L compact. If you are looking for a product that leaves nothing to be desired, this spacious whirlpool is the perfect solution. With this goal in mind, the Laguna series was ergonomically designed by us.
Thanks to the considerable size of approx. 140 x 140 x 65 cm and the two headrests, this whirlpool can also be used for two.
The 4 adjustable large whirlpool jets, the 10 body jets and the 7 air jets make the relaxation experience perfect. The two 360-degree jets on the window side introduce the lack of rotation in the whirlpool. Ordinary use as a normal bathtub is of course also possible. The separate tub inlet independent of the hand shower or the waterfall promises a quick bathing experience. Relax with an invigorating whirlpool bath while the innovative color light therapy makes the water shimmer in three soft and soothing colors. The seat framed in the tub ensures ergonomic use, e. The integrated heating of the whirlpool ensures a pleasant temperature at all times.
Not only are the properties outstanding, the quality is more than fair for the price quoted. Worth mentioning here are above all the reinforced, bright white ABS sanitary acrylic, the high-quality fittings as well as the aluminum frame construction and the computer-controlled touch control element. The height-adjustable feet of the tub, which can be adapted to almost any surface, make this product mountable almost anywhere. All in all, the Laguna series is a spacious oasis of relaxation and at the same time bathing fun for the whole family with an outstanding price/performance ratio! Please note that the hand shower can only be mounted directly on the wall.
Our whirlpools are completely different from conventional tubs in terms of the material structure. While these are made of steel with an enamel layer on top, we use what is now the most popular tub and whirlpool material: sanitary acrylic!
This thermoplastic material is heated at approx. 180 degrees Celsius pressed into all imaginable shapes. A high level of stability is achieved by a substructure made of glass fiber reinforced fabric (GRP) and often also by reinforcing elements such as wood or aluminum. Our tubs have a particularly thick 3 mm acrylic layer. As a result, you retain heat better and do not feel as cold as normal tubs.
Compared to enamel, they are a little bit more sensitive to scratches. The big advantage, however, is that they can be easily removed with repair kits.
The particularly dense structure of the sanitary acrylic is practically non-porous, which is why limescale, soap residue and bacteria have no chance of settling. Of course, everyone appreciates a hygienic and easy-to-clean whirlpool.
And last but not least, we would also like to mention the non-slip surface, which is impact, shatter and shock resistant. Conclusion: In modern bathrooms there is no longer any reason not to have a whirlpool made of sanitary acrylic! Jacuzzi - 2x neck pillows - 1x speaker - flexible waste water connection (HT 40 mm as an accordion hose) is included Please note: 2x 1/2 flexible hoses with union nut are required (available inexpensively from specialist retailers) - Packaging: in a handy box, securely packed and checked for completeness - Package dimensions: 154 x 154 x 81 cm.
HOME DELUXE Whirlpool Corner Bath Tub Tub Pool Thermostat Spa Heater. HOME DELUXE Jacuzzi Bathtub Pool Showers Bathing Freestanding Acrylic Tub Tub. HOME DELUXE Jacuzzi Corner Bathtub Pacifico Bathtub Tub Pool Massage Spa.
Ecommerce the way I want it. Separate collection of old devicesElectrical and electronic equipment that has become waste is referred to as waste equipment. Batteries and accumulatorsAs a rule, owners of old devices must separate old batteries and accumulators that are not enclosed by the old device from it before handing them over to a collection point. This does not apply if the.
Laguna L weiß - kompakt. 140 x 140 x 65 cm.
---