Japanese Deep Soak Bath Fibreglass/Supercast 1200 X 1000 x 600 deep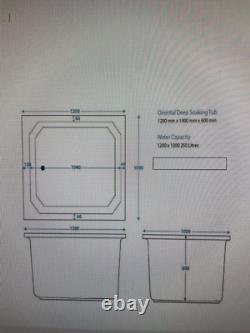 This Deep soak Bath is a brand-new fibreglass 1200 x 1000 x 600 deep, it has had a supercast layer added which increases strength and also enhances heat retention. This bath has been manufactured in the UK by our own Fibreglass moulding company. Built Hampshire UK the bath is made to the highest standard using only sanitary grade materials. Tap holes are not drilled out. Waste position is pre moulded so cannot be changed. Overflow hole is drilled out directly above the waste. 1100mm x 1200mm overall perimeter of bath (without spa system fitted).
These baths are normally fitted as inset baths and don't come with panels. 660mm Minimal height (includes 5 pre moulded unremovable adjustable feet blocks). Adjustable feet supplied of which bolts into the feet blocks have a 40mm adjustable range length if needed. In summery - Variable Height Adjustable Range 660mm - 700mm. 50mm topside ledge on 3 sides, with a 100mm topside ledge at the tap / waste / overflow end (see image).
---