KALDEWEI Whirpool Ambiente Puro 684 Vivo Aqua Eco Bathtub 160x70cm4100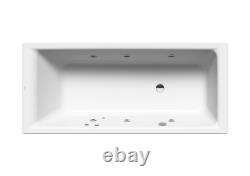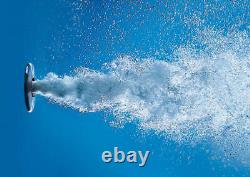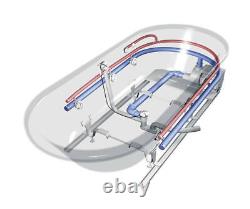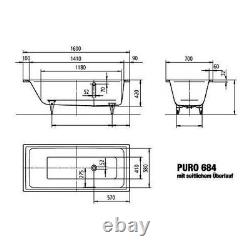 KALDEWEI whirlpool ambience PURO 684 VIVO AQUA ECO bath 160x70cm RRP: 4100. The reduction of all elements to the essential is one of the basic principles of modern architecture and interior design. The clear and puristic design of the PURO bathtub follows this approach. As a single-seat bathtub, it fulfills the desire for high-quality yet affordable design.
The PURO has a particularly generous floor length for exceptionally high bathing comfort. The design of the PURO bathtub follows this approach. PERL EFFECT - With the PERL EFFECT, the water simply rolls off the bathtub and takes almost all dirt and lime particles with it.
Jets: Up to 6 side jets (water, with passive air addition) for a targeted, powerful massage jet to relax the muscles and stimulate blood circulation. Individual alignment of the massage jet to the body.
Functions: The amount of air admixture is adjusted via a rotary control and the intensity of the whirlpool adjusted. Cleaning: Integrated residual water drainage.
The VIVO AQUA ECO system is the perfect introduction to the KALDEWEI whirlpool world. With this whirl system, the water massage jets are directed onto the body via four or six jets (depending on the tub model).
If desired, air can also be added to the massage jet according to the Venturi principle in order to create a pleasant, massaging pressure on the skin and subcutaneous tissue. The intensity of the air admixture can be infinitely adjusted using a rotary knob. The arrangement of the pipes guarantees that the whirlpool system can be emptied without leaving any residual water after opening the drain fitting. This meets the highest hygiene standards.
Model: PURO with lateral overflow. Overflow hole: d 52 mm. Drain hole: d 52 mm. Drainage and overflow position: at the foot.
Whirl system: VIVO AQUA ECO. Test marks: GS, EMV, CB, SIA 181, din 4509. Nozzles: 4-6 side nozzles (water), piping system, air admixture (Venturi principle), indiv. Alignment of the massage jet, visible parts chrome-plated. Hygiene: integrated residual water drainage, protection against dry running.
Rated power water pump : 600 W. This article is a tested B-stock. All items are technically in perfect condition and fully functional. B-Ware is usually not used, it is missing the original packaging or has been opened for inspection.
This in no way affects the functionality of the item. Should there still be the finest small scratches, minimal dents, fingerprints or signs of use, these will also be documented in our offers and additionally pointed out. More of this product group. Wall spacer set 18 cm mast holder wall bracket traverse.
TivuSat 4K ULTRA HD Mediaset Telesystem Smart Card incl. Wall spacer set 30 cm mast holder wall bracket traverse. GigaBlueTRIO 4K UHD HDTV combo receiver DVB-S2X & DVB-T2/C E2-Linux SAT IP cable. Inverto BLACK PRO HQ OCTO LNB 0.2dB HDTV 8 participants.
Fischer&Honsel Zoe Premium series LED ceiling light 40x40 gold/rusty dimmable. Telescope on roof rafter holder mast holder 1 m mast. AXAS E4HD UHD4K 4K Ultra HD E2 Linux H.
265 HEVC 2160p IPTV USB 3.0 satellite receiver. Inverto BLACK Mono Monoblock Quad LNB 23mm, 6° Astra Hotbird. Jan des Bouvrie floor lamp design floor lamp touch function dimmable 156cm aluminium.
EMP Centauri DiseqC Switch 8/1, S8/1PCP-W2 with WSG. Fischer & Honsel Zoe Premium Series LED ceiling light 40x40 aluminum / chrome colors dimmable. Mast extension Mast bracket Railing bracket Straight 100 cm Hot-dip galvanized. GoClever 4K S Outdoor Action Video Cam UHD Ultra HD WiFi Waterproof Helmet Camera. Camping SAT antenna in case 38cm 100% ASTRA or HOTBIRD.
GoClever 4K S Prof-SET Outdoor Action Video Cam UHD WLAN Waterproof Helmet Camera. PAW Patrol Chase & Skye Split Second Transforming Police Cruiser Original NEW & OVP. EMP-Centauri DiseqC-Switch16/1, S16/1PCP-W3 with WSG. Inverto BLACK Mono Monoblock Twin LNB 23mm, 6° Astra Hotbird. BEPER LED Ultrasonic Humidifier Aromatherapy Air Purifier Room Humidifier.
The intensity of the air admixture can b.
---