MSpa Delight Silver Cloud 930L Spa 6 Seat Inflatable Hot Tub Jacuzzi D-SC06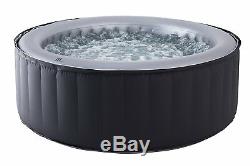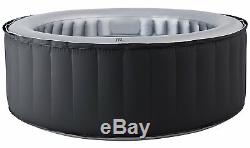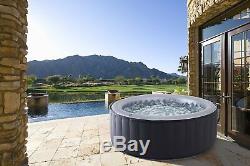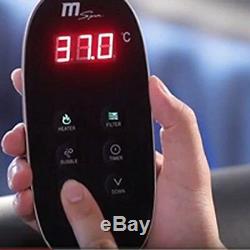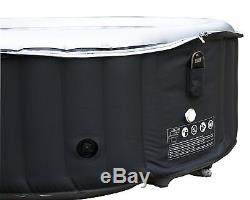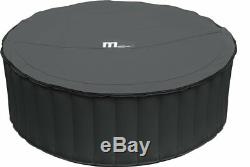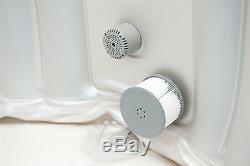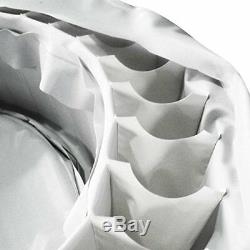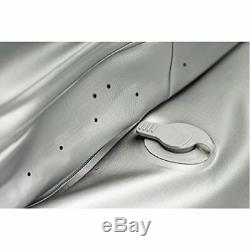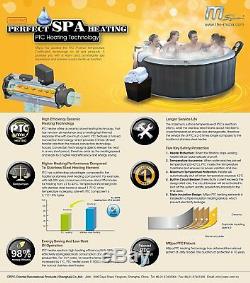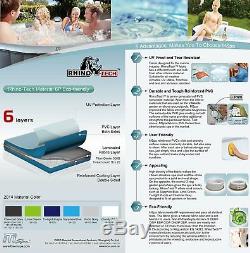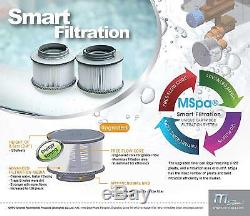 MSpa D-SC06 Delight Silver Cloud SPA. 2018 model 4 -6 persons.
This is the Largest 930Litre. Of the Silver Cloud Range.
Featuring a classic round shape, this modern Silver Cloud M-Spa is perfect for lazy spa days. Enjoy the warm, tropic-feel water that this inflatable hot tub can heat up. The powerful, innovative 138 air jets will provide you and your guests with a relaxing bubbling. With a premium PVC silver interior liner and a thick charcoal grey cover. This high quality spa coordinates well with a wide variety of garden decors.
The Delight control panel offers easy operation and an instruction DVD and. Owner's manual is included to help you with set up. Now all that's left to do is kick back and relax. Spa Dimensions: W204cm x H70cm (Internal Width: 160cm). Spa People Capacity: Max 6 Adults.
138 air jets innovatively and dynamically positioned. Water depth at 80% Water Capacity 44cm. Features a Built-in Control Box One button to inflate within 2 minutes and no External motor! Classic Round Shape with Charcoal grey Rhino-Tech 6-layer reinforced PVC cover material. Rhino-TechTM 6-layer reinforced PVC cover. Water Capacity: 930L (245Gal) when filled to the MAX water level mark. Heat Increasing Rate: 1.2-1.8 degrees Celsius per hour, Heats up to 42 degrees. 138 innovative and dynamic Air Jets. Other Standard Accessories include: Manometer, filter pack, garden hose adapter. Inflation hose and a digital lock. Dimensions: 2.04x0.70mH (80"x28"H). Weight: (without water) 26kg (57.2Lbs).
Controller, Cover, Hose Adaptor, Filter Cartridge, Digital Lock, Garden Hose Adaptor, Wrench, Instruction DVD & Owners Manual. MSpa Luxury Spa key features.
The heat itself promotes circulation and speeds up removal of lactic acid. The buoyancy of the water generated by 138 dynamic air jets lift the effects of gravity and takes the pressure off joints for pain relief.
This 2018 mSpa model is now equipped with a built-in control box with a mini wired control panel. No need to install anything before use! One button to start inflation and everything will be ready for you within 120 seconds! The spa comes with a cover, which perfectly zips around the spa when not in use.
It is UV, frost and tear resistant, made from a durable and tough reinforced PVC. Recent studies have shown that soaking at the top heat of a hot tub for one hour can burn around 130 calories which is the same as a brisk 30-minute walk!
How does set up work? Place down the ground mat on a level area of ground, and unpack the deflated spa on top. Connect power to the spa, and press the inflate button on the control panel. 120 seconds later your spa is inflated and ready to fill. Use your garden hose, connected to your water supply, to then fill your spa up with water.
Then you need to press the heater button to then heat the water to your desired level. When you want to pack away your spa, simply connect the hose adaptor (supplied) to the bottom of the spa, connect your hose to the adaptor and place the other end to a suitable draining area, then release the plug in the bottom of your spa to start drainage.
Once all water has been drained, give the spa a quick dry with a cloth, then deflate the spa and put back into its carrying bag. We also have video demos to help you, so it couldnt be easier! Should I install my spa indoors, or out? Each location has its pros and cons. Having your spa outside allows you to soak up the sun in style, as well as experience being in a bubbling hot spa during the cold winter nights when you wont notice the cold around you thanks to your core body temperature being heated by the spa.
An inside spa gives greatest privacy, but you will need to ensure you have proper ventilation to allow the humidity to leave your home. Draining of the spa is not a problem, but you will need to be able to make sure your hose exits the water somewhere suitable.
Can I set up the spa on a concrete patio? Yes, but a ground cloth is recommended. Do not drag spa across concrete, as this may cause damage.
Select a smooth and level area, free of sharp objects. Can the spa be left up all-year round? It is not recommended to leave your spa in temperatures below 0 degrees, or heat above 34 degrees. The spa cover cannot withhold the weight of snow, or ice so it is suggested that the spa is stored when not in use during extreme winter weather conditions without proper shelter Is the spa noisy?
Your inflatable spa will not emit any noise when it is in standby mode, filtration or heating mode. When the motor is in use, you will hear that and the bubbles of the water What if my spa needs repairing? We enclose a few pieces of PVC swatches for repairing holes in your spa. You will need to get some PVC glue at your local shop, and this will help repair small tears or holes. How do I know how much air to inflate my spa with? There is a handy meter on the spa that will always tell you when the spa is over inflated, or under inflated, so you can either release air, or pump the spa up slightly to the optimal level.
How often should I change the water in the spa? This depends of usage and the chemical balance of the water. If properly filtered and chemically balanced, there should be no need to change water for the whole summer season.
The frequency can be reduced by keeping the spa covered when not in use, regularly checking the chemical balance, operating the pump for an adequate number of hours a day, cleaning the filters regularly and replacing the filters when required. How long will my spa take to warm up? The heat increase rate is 1.2 2.5c/hour.
If the water starts at 24c it will take 7-10 hours to reach 38c. The temperature drops by 1c every 5 hours overnight. How long does it take to fill spa with water? It should take about 10 minutes to fill the spa with your garden hose water supply, depending on hose size and water pressure.
SOME POSTCODES IN SCOTLAND AND IOW HAVE CARRIAGE CHARGES PLEASE ENQUIRE. The item "MSpa Delight Silver Cloud 930L Spa 6 Seat Inflatable Hot Tub Jacuzzi D-SC06" is in sale since Saturday, July 14, 2018. This item is in the category "Garden & Patio\Swimming Pools & Hot Tubs\Hot Tubs". The seller is "gardenstoredirect" and is located in Blackpool.
This item can be shipped to United Kingdom.
Shape: Round
Type: Hot Tub
MPN: D-SC06
Heating Source: Electric
Brand: MSpa
---