Platinum Spas 4 Person Marisol Infrared Indoor Sauna Carbon Heaters S-004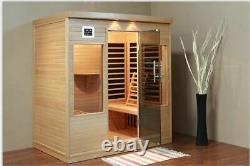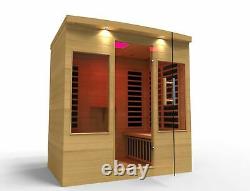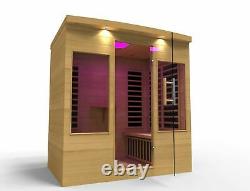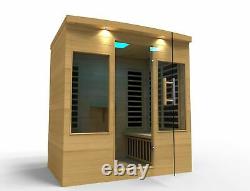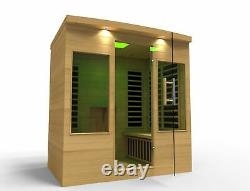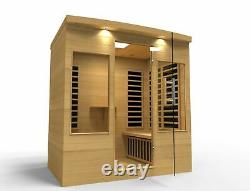 Platinum Spas 4 Person Marisol Infrared Indoor Sauna Carbon Heaters S-004. A relaxing escape in your own home, the Marisol party sauna for four is great for any occasion - whether you're taking some time to yourself or hosting company. Providing ample space for up to four adults, this luxury sauna also boasts colour-changing LED lighting to enhance mood and atmosphere, mounted speakers with Bluetooth connectivity, and 2200W infrared heaters for optimum temperature. This serene sauna is built from carefully selected Canadian Hemlock wood with a vertical grain that expands and contracts without warping or cupping, offering natural strength, durability, and style. The Marisol 4 Person Sauna is an environmentally friendly infrared sauna made from Canadian Hemlock Wood. This wood exceeds industry standards due to its light and bright texture which makes this sauna extremely elegant, whilst ensuring the retention of heat. Infrared saunas unlike other saunas do not heat up the air around you, but instead, they use infrared lamps to directly warm your body up. The heat helps to penetrate deeper into your body to target any problematic areas. Scientists have claimed that the amount of lighting affects the regulation of emotions, such as happiness and sadness, through the nervous and endocrine systems.
All of our saunas include LED lighting to enhance the users pleasure whilst making use of the sauna. This not only gives the sauna a very modern look but also improves the mental mood of the user. All our saunas come with Bluetooth connectivity, allowing you to relax in the shower whilst listening to your favourite songs through the mounted speakers which comes as standard. Music is another way to increase the user's enjoyment whilst using their sauna! Downtempo music can cause the brain to synch up with the beat and create alpha brain waves.
These waves are often present when we're awake but relaxed. Listening to smooth jazz, especially combined with nature sounds like waterfalls or thunder, can be especially soothing. What are EMFs (Electro-Magnetic Fields)?
Electro-Magnetic Fields are energy waves with frequencies below 300Hz. The EMFs we encounter daily come from the very things we use in our homes, such as TVs and computer monitors, microwave ovens, cell phones, electric blankets, wiring in your home, and many other common electric devices. Numerous studies have produced contradictory results, yet some experts are convinced that the threat is indeed real. Dr David Carpenter (Dean at the School of Public Health, State University of New York) believes that there is a link between childhood cancers and exposures to high amounts of EMF.
Platinum Spa Saunas' Low EMF Heater. Average EMFR levels in Infrared Saunas: Peak: 81 mG / Average: 55 mG. Average EMFR levels in a Hydro Active Sauna: Peak: 2.4 mG / Average: 1.3 mG. Our Hemlock timber is the best choice for your sauna - whether it'd be for your home or even commercial use.
It is also very beneficial for all individuals suffering from allergies or persons with both mental and physical health problems. Hemlock is known for its natural strength and durability; it is naturally resistant to decay, therefore ideal for saunas. Platinum Spas 4 Person Marisol Infrared Indoor Sauna Carbon Heaters S-004 Features. Suitable for indoor use only. Multicoloured LED lights inside and surrounding the sauna.
Operates up to a maximum of 60 degrees - ideal operating temperature between 49 and 54 degrees. Wood: Canadian Hemlock wood construction. Heater: 8 carbon infrared heating panels (2400W). Electrical Service: Dedicated 13 amp.
Clasp Together: 45-60 minutes with 4 adults. Dimensions: H 194 x W 175 x D 120 cm.
Eases pain from sore muscles or aching joints. Improves skin tone among other benefits. We'll match the price plus an extra 20%.
No one knows more about these products- Give us a call today. Our experts are on hand to help get the right product for you. LOWEST PRICE GUARANTEE - Up To 60% Off RRP's. LEADING BRANDS - Only The Best Items Make It On To Our Store. POSHH-OULET - UK's Premier Home & Garden Retailer.
UK's Biggest Independent Steam And Hydro Shower Company. No one else knows more or can offer you a better service when it comes to your shower, FACT! If you think you have seen the same for less...
Add our Shop to your favorites to receive newsletter about new items & special promotion. This item is in the category "Home, Furniture & DIY\Bath\Showers, Baths & Parts\Indoor Whirlpools".
The seller is "steam-shower-store" and is located in this country: GB. This item can be shipped to United Kingdom.
Brand: Platinum Spas
Height (mm): 1940mm
Length (mm): 1750mm
Type: Whirlpool Bath
Width (mm): 1200mm
---