Vidalux WB51 Deluxe 1500 x 900 Whirlpool & Airspa Bath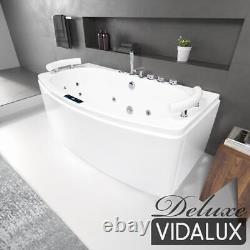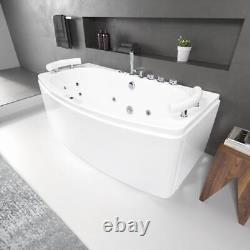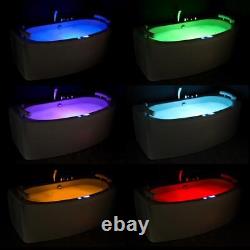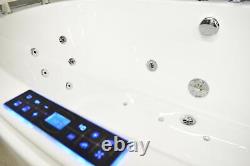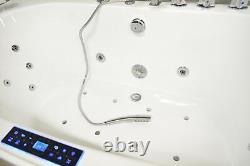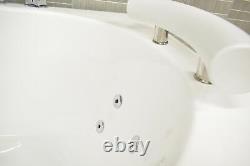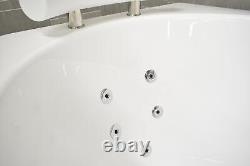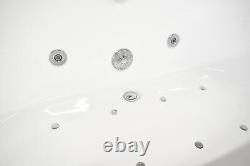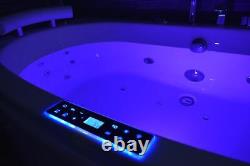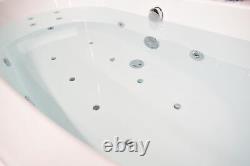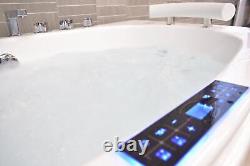 Vidalux WB51 Deluxe 1500 x 900 Whirlpool & Airspa Bath. Vidalux WB51 Deluxe 1500 x 900 Whirlpool & Airspa. At just a touch of a button, you can adjust the power of the massage from a gentle relaxing drift to a more rigorous sports like deep tissue massage or specify your preferred ratio of air and water coming through the system. The more water, the deeper the massage or you may prefer more air at a fast pace to have the massage just as effective but less aggressive. The control panel also allows full control over the Bluetooth feature and wireless speaker settings.
Play and effortlessly listen to your favorite playlist or broadcast through the high-quality speaker system. The Deluxe version also comes with an inline water heater to help keep the bathing water perfect and heated to your preferred setting. No more topping up the hot or. Becoming cold, just sit back and relax, undisturbed as the whirlpool and Airspa take care of the rest. Ozone sterilisation is also on hand so you can rest assured there will be no need to worry about unhygienic pipes our mold gathering. Constructed from the finest acrylic this feature-rich. Offers a whole new level of comfort. With generous dimensions of 1500 by 900, this model is sure to look and fit well in most bathrooms. The wonders of this unit truly have to be experienced to be appreciated. Vidalux's ergonomic, state-of-the-art jacuzzi jets sit seamlessly around the tub. In total there are 4 main Whirlpool jets, 5 focused back jets on each side and 8 Airpsa tub jets on hand to offer a high-level body massage. Simply rest your head on one of the two tailor-made pillows and use the back massage jets to gently soothe away the stresses of the day. The 1HP Whirlpool pump is as capable as it is reliable and it doesn't stop there. Paired with the powerful full-body massage is the wonderous Airspa base jets, for a full-body coverage of relaxation unrivaled in many other units. Further, enhance your relaxation by scintillating illuminated water coloured with the underwater LED light. Lie back, relax and admire your surroundings.
The hydrotherapeutic jacuzzi jets and Airspa are beneficial for both your mental and physical health. Some benefits may include, relief from pain, swelling and stiffness; improved joint mobilisation; cardiovascular fitness, and muscle strengthening. Not to mention the relaxation value and reduction of stress hormone production.
Take your relaxation to the next level with this wonderful whirlpool bath. 10 Ergonomic Back Massage Jets.
Inline water heater for optimum water temperature. 5 Focused back jets on each side. Thermostatic Mixer Taps Built In.
Easy to use dial controls. Underwater LED Lights that change through 7 colours. 1.0 HP Robust Long Life Pump.
0.25 Horsepower air spa pump. ReinforcedBathwith stainless steel support frame. See images for full product dimensions. Bar pressure 1.5 - 3 Bar (pump will be required on gravity-fed systems). Please ensure you leave at least 18 clear space in front of the. To allow for access and installation. We'll match the price plus an extra 20%. No one knows more about these products- Give us a call today. Our experts are on hand to help get the right product for you.
LOWEST PRICE GUARANTEE - Up To 60% Off RRP's. LEADING BRANDS - Only The Best Items Make It On To Our Store.
POSHH-OULET - UK's Premier Home & Garden Retailer. UK's Biggest Independent Steam And Hydro Shower Company. No one else knows more or can offer you a better service when it comes to your shower, FACT! If you think you have seen the same for less...
Add our Shop to your favorites to receive newsletter about new items & special promotion.
---